HI THERE, GOOD TO SEE YOU!
I am Noémie and I teach meditation because I want as many people as possible to profit from the powerful and transformative effects of meditation.
Meditation, to me, is something joyful and an integral part of my life. It helps me in stressful times, gives me strength and focus – in my private life and at work.
But that wasn't always the case: I used to feel a strong inner restlessness as if I was not where I was meant to be. I often felt like I was looking at myself from the outside and the connection to my body and intuition was unstable. I often didn't feel that I was in control, lacked focus and ambition.
Then I discovered Eckart Tolle and realised that my mind was constantly caught up in thoughts. I wanted to change that and started experimenting with meditations. At first, I could hardly sit still and keep my eyes closed, always thinking I had more important things to do. Sometimes I just fell asleep. Until, one day, I entered a space of deep stillness. The results were huge shifts and changes: Today I live more in the here and now and feel a strong connection to my intuition, myself and the people in my life. I know what I want and can focus on the things that really matter.
MY WAY TO BECOMING A TEACHER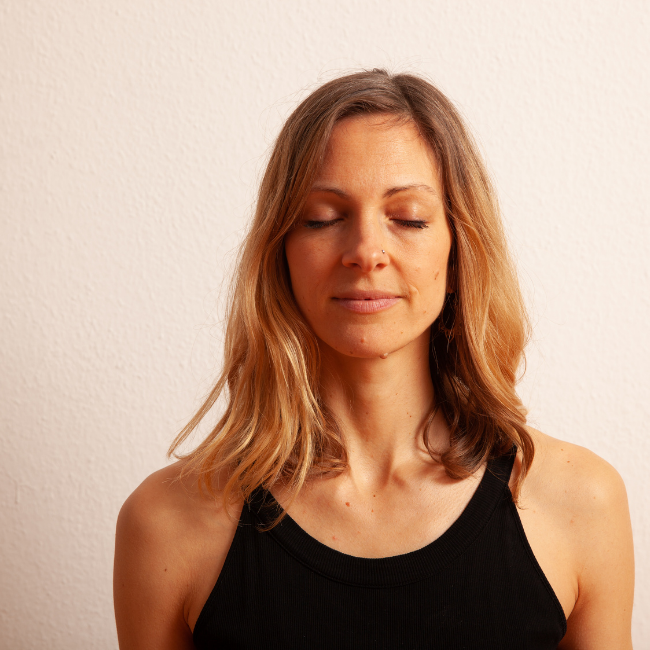 These experiences lead to the desire to train to become a teacher. My style is lighthearted and playful and combines elements of different traditions and techniques in which I have been trained:
8 weeks MBSR course
OSHO Meditation: In-Depth & Facilitator Training
200 hours Meditation teacher training with Punnu Singh Wasu
20 hours Basics of Pranayama with Sri Nanda Kumar, Senior Iyengar Yoga Master
80 hours Yin Yoga teacher training with Katrin Knauth and Wolfgang Riedl
Women's Life Coaching Training with Bekind Bali
I have been to silent retreats in Brandenburg, a Vipassana boot camp in Indonesia and lived two months in a tent in an Osho commune in Greece.
Other than that, my life is pretty "normal": As a real Berlin girl, I love silence just as much as nights out with good music and friends and my yogi tea just as much as a cocktail now and then.
FOR FURTHER READING
On my blog, I write about meditation, lifestyle, personal growth, travel, nutrition and my journey towards a more authentic life, reflecting the challenges I've faced and the insights I've gained.
If you want to share your experiences, feel free to leave a comment. I look forward to reading you!